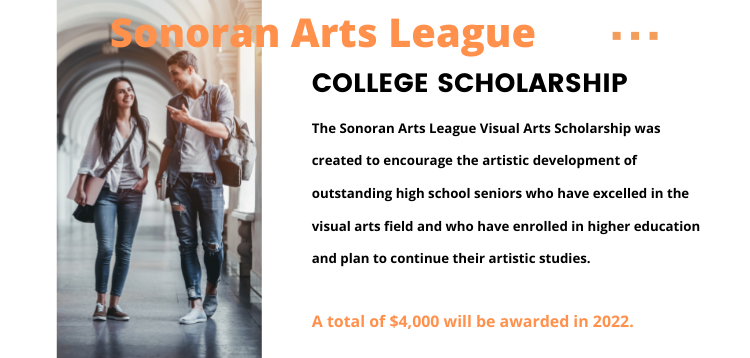 Application Deadline: Wednesday, April 13, 2022
The Sonoran Arts League Visual Arts Scholarship was created to encourage the artistic development of outstanding high school seniors who have excelled in the visual arts field and who have enrolled in higher education and plan to continue their artistic studies. A total of $4,000 will be awarded in 2022.
Eligibility Requirements:
Applicant must be a graduating high school senior with a G.P.A. of 2.5 or better.
Applicant must be planning to enroll in a university, college, community college or school of design either full time or part time.
Applicant must register for one visual arts class their freshman year.
Applicant must be a legal resident of the state of Arizona.
Application Details:
Applicant must submit the following documentation for consideration:
Completed application form.
Official high school transcript including the cumulative G.P.A.
A one-page typed essay, double spaced, on the applicants' school and community-based art experiences, goals and accomplishments.
A portfolio of original artwork (digital or physical) including no fewer than six (6) and no more than ten (10) examples of the applicant's work.
Documentation of the artistic process used when creating the work such as a sketch book. Digital files and/or photographs of the work process that supports the individual exploration and development of ideas is also acceptable in place of a sketch book.